2003 Suzuki Z400 Total Rebuild
Click For Full Mod's List

---
This is what she looked like when I bought her...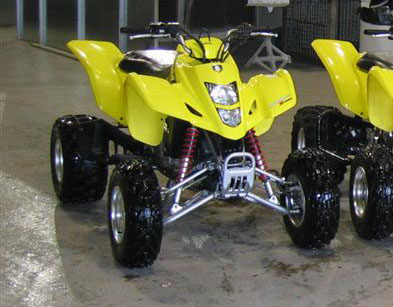 Within 1 month of owning the quad it was torn down to this...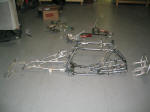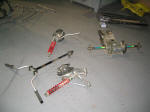 ---
Let the rebuild begin...

Bare Performance Gusset Kit welded by Jack of XXTuning - www.XXTuning.com

Powder Coating by Northeast Coatings - www.NortheastCoatings.net
Colors:
- Sparkle Granny Smith with a Glitter Clear Coat.
- Extreme Chrome with a Glitter Clear Coat.
- Gloss Black.
- Black Chrome with Clear Coat.
Below is the modification to the OMF Air Scoops to fit with the Bare Performance Gusset Kit.
Burgard Cycle +1 A-Arms installed. New front shocks to follow.
Below are some shots of the port and polish job on my head. Also installed:
DRZ Valve Springs, Hotcams- Intake & Exhaust, DID Cam Chain, Athena 434 Kit, & DRZ Base Gasket.
Other mods: Dyna Programmable CDI, Pro-circuit T-4 Full Exhaust, Pro Design Air Intake.
Motor is dropped in...
Finally a rolling quad again...

At this point the cams has been broken in. Just need a new front sprocket and master link in order to finish breaking in the motor.
The plastics have been put on to test fit everything.
All the wiring for the kill, starter and light switches need to get done.
Still need front shocks.
Later down the road a FCR will be added.
Still deciding on what gripper seat cover.
Not sure what I am doing about the wheels at this point.
---
Well after 5 months she is pretty much done!
All the wiring has been done.
'05 Z400 shocks with polished rezzies installed.

Well here she is.......
---
Well everyone thought I wasn't going to ride it once they saw what I was doing with it. But I
could not let that happen. See what happens below after its 1st oil change (after break-in)....
She cleans up pretty nicely!
---
Things still needed:
Definitely needs a larger carb!
Gripper Seat Cover.
Wheels & Tires?? Black or Silver wheels, hmmm???

---
ENGINE:
Athena 434 Big Bore Kit
^ Athena Piston Top Coated with Thermal Barrier Coating by Northeast Coatings
^ Athena Piston Sides Coated with Solid Dry Film Lubricant by Northeast Coatings
Port & Polished Head
DRZ Base Gasket
DRZ Valve Springs
Hotcams- Intake & Exhaust Cams
DID Heavy Duty Cam Chain
Dynatec FS Programmable Ignition
Pro Design Pro Flow Air Intake
Pro-circuit T-4 Full Exhaust.
^ Polished Canister with End Cap - PC'd Sparkle Granny Smith with a Glitter Clear Coat
^ Header pipe coated with High Polish Silver Ceramic (1300F) by Northeast Coatings
^ Custom Exhaust Heat Shield. Fabricated by Sandstar

FRAME:
Stock Frame Gusseted and PC'd Sparkle Granny Smith with a Glitter Clear Coat
^ Bare Performance Gusset Kit welded by XXTuning
Stock Swingarm - PC'd Sparkle Granny Smith with a Glitter Clear Coat
Dura Blue +4 Axle
Dura Blue Axle Housing
Works Rear Shock with Remote Rez
Burgard Cycle +1 A-arms - Nickel Plated
2005 Z400 Front Shocks with Polished rezzies with Black Shockwears Covers
Galfer Front and Rear Stainless Brake Lines
Ricky Stator SS Brake Line Holders
Pro Design Case Saver with Modified Stock Cover
Front and Rear Hubs- PC'd Sparkle Granny Smith with a Glitter Clear Coat
Brake Dust Shields - PC'd Black Chrome with Clear Coat
Stock Rear Brake Lever and Shifter Lever - PC'd Gloss Black
Billet E-brake Block-off Plate
OMF Air Scoops
Billet Gas Cap
All New Bushings and Bearings
BODY:
Black Maier Plastics
Pro Armor Fat Peg Nerfs - PC'd Extreme Chrome with Glitter Clear Coat
DG Front Bumper - PC'd Extreme Chrome with Glitter Clear Coat
PRM Desert Rear Bumper - PC'd Sparkle Granny Smith with a Glitter Clear Coat
Full Skids - PC'd Extreme Chrome with Glitter Clear Coat
CONTROLS:
Stock Steering Stem - PC'd Extreme Chrome with Glitter Clear Coat
Trail Tech Bar Clamp - Polished Silver
Trail Tech X-Bars - Polished Silver (1 1/8)
ASV Clutch Lever and Perch- C/5 Pro Model.
Pingel 650 Kill Switch, modified to fit Trail Tech 1 1/8 bars.
RM 250 Kill Switch as new Starter Button
Mini Toggle Hi-Lo Light Switch - Mounted in Trail Tech Bar Clamp Vent Hose Location
Billet 10 LED Rear Tail Light
^Modified Stock Tail Light Bracket - Powder Coated Gloss Black
Ricky Stator 45/45 Head Light Bulbs

---

Many thanks go out to the following
Northeast Coatings
XX Tuning
Advantage Cycle
Bare Performance
VIP Technologies